SDR Game #7 - 7 tips for using video prospecting to stand out
Bonjour 👋
Happy Sunday to 920 motivated SDRs.
2 weeks ago I've been invited by Thibaut Souyris to talk about video prospecting, the recording will be available soon on my YouTube channel.
Here're 7 simple tips on how to use video in your outreach.
Today's newsletter takes about 3 minutes to read.
Happy reading.
Elric
---
In today's issue, I'm sharing 7 tips to pick your prospects' curiosity with video.
Video prospecting is still pretty new, a lot of people talk about it on LinkedIn.
I don't see a lot of SDRs using it, only 3% of sales reps use video in their sales process.
Video prospecting helps you stand out.
Because it's hard.
Harder than sending an email.
Sending a LinkedIn message.
With a video, you add a face to your name.
Your prospects can see that you put efforts in your outreach.
Video prospecting is like a movie trailer.
Where the movie is your first meeting with your prospect.
The goal of your video is to pick your prospect's curiosity to start a conversation with you.
I have so much fun recording videos.
Have fun and let me know how it goes.
Tip #1: 5 types of video prospecting
For video prospecting you can be overwhelmed when you start so here's a list of 5 ways you can use video in your outreach:
Personalized videos: video for 1 specific prospect
Follow up: a 7-15 sec video to follow up on a specific email. A great one if you send a personalized email before.
Team videos: sending videos for a specific team.
Objection handling: not interested, competitor, timing, etc. Here you can use pre recorded videos or send a personalized video
Send an email when 1 person forwarded your email to their teams. You can mention that you saw that. Because it means there is an internal convo about your email and you would like to be part of it.
Tip #2  Sell the click to watch your video
First goal of your message when you send a video: sell the click on the video with a call to action to your video:
Elric, I know video in an email is crazy, however would you be opposed to clicking the video to see what I have to say?
Elric, was on your website, saw 1 thing that I think we might help you with so I made you this video. Check out the video if you want to learn more about it.
Tip #3 Your video thumbnail =  attention grabber
With your thumbnail you need to show them that's a personalized one to have them click on your video and watch it.
Because if you don't.
It means that you could send the same video to all your prospects and it doesn't work.
#1 If you find something relevant on your prospect LinkedIn profile, you can screen share.
#2 If you don't find anything about you prospect, you can use this app Make it big on your phone. Smile, hand wave, and your phone.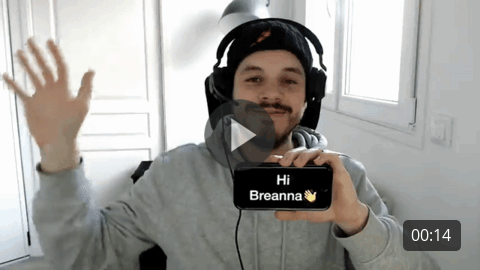 #3 Your prospects' website, if you send a video to a team or 1 specific person.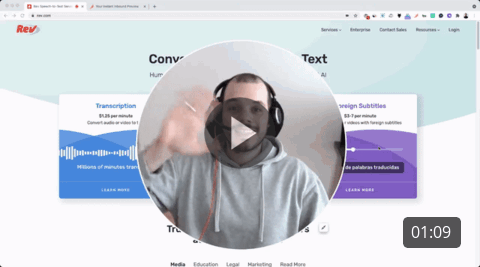 Tip #4 Point your prospects to your video
After sending your video, and didn't get a reply. It's not over.
Send a message on LinkedIn, a voicemail, a follow up email to ask for feedback to your video.
Elric, I sent you a video on Monday about you website, not sure if you got a chance to watch it, let me know if yo have any feedback.
Tip #5 Repurpose your video
If you spend 5 min to record a video you need to make sure they watch it. Because you've invested time in recording it.
After sending your video via email, pointing your prospect to it, and still didn't you prospect to watch it or get a reply.
You can:
Send it again with another email try a different message before the video.
Send it on LinkedIn with a message or an Inmail.
Tip #6 Keep it short

Your prospects don't know you.
So your video needs to be short.
Max 90 seconds.
Mention the length of your video  in your email.
If they click on it, they know how long it's going to take them to watch it.
Elric, I made you this 52-sec video
Tip #7 Check your mic
I made this mistake a lot of time.
I recorded 5 videos.
Sent my videos.
Check 1 and saw that it didn't record my audio.
Before recording your video.
Make a test video to make sure you use the right microphone.
---
So, there we go. Thanks for reading.
That's all for this Sunday. 7 simple tips for SDRs.
Quick Reminder: If you like my emails please do "add to address book" or reply.
See you again next Sunday.
Cheers,
Elric
---
❤️
Enjoy the newsletter? Please forward to a friend. It only takes 10 seconds. Writing it takes me 3 hours.
---